Whole Earth Brands Announces Leadership Evolution with New Executive Appointments and Amends Credit Agreement
Branded CPG International Regions to be Operated Collectively Under New Leadership

Nigel Willerton, Founder of Wholesome Sweeteners, Named as President and COO of Branded CPG North America Region
Rajnish Ohri, Formerly VP and MD of Branded CPG IMEA Region, Named as President and COO of Branded CPG International Region
Jeffrey Robinson will continue to serve as President and COO of Flavors & Ingredients
Bernardo Fiaux, Former CFO of Kraft Heinz Meals, Condiments, and Foodservice Division in North America, Named as Chief Financial Officer
Announces Amendment to Credit Agreement, Increases Leverage Covenant to Provide Near-term Flexibility
Reaffirms Full Year 2023 Guidance
CHICAGO, April 25, 2023 (GLOBE NEWSWIRE) -- Whole Earth Brands, Inc. (the "Company" or "we" or "our") (Nasdaq: FREE), a global food company enabling healthier lifestyles through premium plant-based sweeteners, flavor enhancers and other foods, today announced an evolution of its leadership organization with new executive appointments, as well as an amendment to its credit agreement which allows for added near-term flexibility with increased leverage covenants. The Company also reaffirmed its outlook for full year 2023 ahead of its first quarter earnings release on May 10, 2023.
Michael Franklin, Interim Chief Executive Officer, commented, "The actions that we announced today are the product of several months of engagement across all facets of our business. They are aimed at simplifying our structure and fostering teamwork and collaboration at all levels. Streamlining our operations and enhancing cross-functional activities are key corporate priorities as we strive to enhance our productivity and generate sustainable long-term growth."
Irwin D. Simon, Executive Chairman, added, "We continue to be excited about the sweetener category and the opportunities within our portfolio to drive innovation. Our ability to succeed requires an ongoing commitment to building a nimble and efficient organization that can better serve our customers and shareholders. We are pleased with the initial results of these efforts and look forward to building on our work in the year ahead."
Branded CPG International Regions to Operate as One Strategic Region; Names Chief Operating Officers for Branded CPG North America and International Regions
"I'm excited about our decision to operate our Branded CPG international regions in Europe, IMEA, LATAM, APAC, and beyond as one strategic unit, which demonstrates our commitment to enhance collaboration, streamline decision-making, and build scale for future growth," continued Mr. Franklin. "This move is consistent with our company's philosophy of operating as 'one company, one business, one team' – all working towards a cohesive, common goal. Looking ahead, as we continue to pursue new opportunities and navigate a rapidly evolving global marketplace, our consolidated approach will enable us to stay agile, innovative, and competitive. I'm excited to be working closely with Nigel and Rajnish, our new Chief Operating Officers of North America and International, to accomplish our goals across our entire Branded CPG business."
Nigel Willerton, Founder of Wholesome Sweeteners, Named as President and COO of Branded CPG North America Region
Nigel Willerton's career spans over 30 years in the natural and organic specialty foods industry. As the founder and former Chief Executive Officer of Wholesome Sweeteners prior to Whole Earth Brands acquisition of the business in February 2021 he led the company for nearly two decades, making it one of the largest organic and fair-trade sweetener companies in the United States. Nigel's visionary leadership and unwavering commitment to sustainability and social responsibility have earned him a reputation as an industry thought leader. He has also served as Chair of the Organic Trade Association Sugar Task Force.
Rajnish Ohri, Formerly VP and MD of Whole Earth Brand's Branded CPG IMEA Region, Named as President and COO of Branded CPG International Region
Rajnish Ohri is a seasoned entrepreneur and accomplished business operator with more than 30 years of experience in the consumer packaged goods industry across various geographies and cultures. As Vice President & Managing Director of IMEA at Whole Earth Brands since 2020, he has demonstrated his passion for driving growth in underdeveloped markets and achieving positive results.   Prior to joining Whole Earth Brands, Rajnish served as the Managing Director of the Hain Celestial businesses in the IMEA region. With his wealth of knowledge and expertise, Rajnish has established himself as a dynamic leader in the industry, committed to driving growth and achieving success through innovation and strategic thinking.
Appoints Bernardo Fiaux as Chief Financial Officer
Bernardo Fiaux joins the Company as Chief Financial Officer effective April 24, 2023. Concurrent with Mr. Fiaux's appointment, Duane Portwood will step down from his post as Chief Financial Officer, but will remain with the Company for a short period to support the transition.
Mr. Fiaux joins Whole Earth Brands from The Kraft Heinz Company (Nasdaq: KHC) ("Kraft Heinz"), where he most recently served as CFO for the Meals, Condiments, and Foodservice division in North America. There, he supported the business in maintaining top-tier profitability and reducing balance sheet leverage to achieve post-merger targets. Prior to his role as division CFO, he also served as Head of North America M&A where he led two large divestiture processes at Kraft Heinz. Prior to Kraft Heinz, Mr. Fiaux was with 3G Capital, where he supported a series of deals including Tim Horton's, Popeye's, and the Heinz and Kraft Foods merger. Fiaux holds an MBA from the University of Chicago Booth School of Business.
Mr. Franklin commented, "On behalf of the Board of Directors and our entire leadership team, I thank Duane for all of his contributions, wisdom and dedication to the Company, especially amid the complexities of the pandemic and the challenging macro environment that followed. On a personal note, I am truly grateful for his partnership and all of the support he has provided during my integration process and I know his counsel will be valuable in supporting Bernardo through his transition as well."
Mr. Franklin concluded, "I am incredibly excited to welcome Bernardo to our leadership team at Whole Earth Brands. Bernardo enters our Company at an important inflection point where we look to capitalize on a number of opportunities that lie in front of us. His demonstrated experience and hands-on approach are an excellent fit, and when coupled with his passion and energy, should elevate our team as we embark on the next chapter of growth."
Bernardo Fiaux, Whole Earth Brands' new Chief Financial Officer, stated, "I believe that my experiences at Kraft Heinz and 3G Capital will build upon the solid foundation that Duane and team have put in place at Whole Earth Brands. I am excited to be joining the organization and help the business drive sustainable long-term value for its shareholders."
Amends Credit Agreement
The Company announced today that it has entered into an amendment, effective April 24, 2023, to its Amended and Restated Credit Agreement with its lenders which increases the consolidated total leverage ratio covenant to provide near-term flexibility and improved access to its revolving credit facility. The amendment temporarily increases the leverage ratio by 0.25 turns for the first quarter of 2023, 0.5 turns on a quarterly basis through the fourth quarter of 2023, and 0.25 turns in the first quarter of 2024. Thereafter, beginning in the second quarter of 2024, the Company's leverage ratio returns to a level not to exceed 5.5x. There were no other substantive changes to the agreement, nor material expenses associated with the amendment. More details can be found in the Company's 8-K, once filed.
Reaffirms Full Year 2023 Guidance
The Company is reaffirming its outlook for full year 2023. The Company's 2023 outlook is as follows:
Net Product Revenues: $550 million to $565 million representing reported growth of 2% to 5%
Adjusted EBITDA: $76 million to $78 million
Capital Expenditures: Approximately $9 million

First Quarter 2023 Results to be Released on May 10, 2023
The Company will release its first quarter financial results on May 10, 2023. Details associated with the call were provided in a concurrent press release.
About Whole Earth Brands
Whole Earth Brands is a global food company enabling healthier lifestyles and providing access to premium plant-based sweeteners, flavor enhancers and other foods through our diverse portfolio of trusted brands and delicious products, including Whole Earth Sweetener®, Wholesome®, Swerve®, Pure Via®, Equal® and Canderel®. With food playing a central role in people's health and wellness, Whole Earth Brands' innovative product pipeline addresses the growing consumer demand for more dietary options, baking ingredients and taste profiles. Our world-class global distribution network is the largest provider of plant-based sweeteners in more than 100 countries with a vision to expand our portfolio to responsibly meet local preferences. We are committed to helping people enjoy life's everyday moments and the celebrations that bring us together. For more information on how we "Open a World of Goodness®," please visit www.WholeEarthBrands.com.
Forward-Looking Statements
This press release contains forward-looking statements (including within the meaning of the Private Securities Litigation Reform Act of 1995) concerning Whole Earth Brands, Inc. and other matters. These statements may discuss goals, intentions and expectations as to future plans, trends, events, results of operations or financial condition, or otherwise, based on current beliefs of management, as well as assumptions made by, and information currently available to, management.
Forward-looking statements may be accompanied by words such as "achieve," "aim," "anticipate," "believe," "can," "continue," "could," "drive," "estimate," "expect," "forecast," "future," "guidance," "grow," "improve," "increase," "intend," "may," "outlook," "plan," "possible," "potential," "predict," "project," "should," "target," "will," "would," or similar words, phrases or expressions. Examples of forward-looking statements include, but are not limited to, the statements made by Messrs. Simon and Franklin, and our 2023 guidance. Factors that could cause actual results to differ materially from those in the forward-looking statements include, but are not limited to, the ongoing conflict in Ukraine and related economic disruptions and new governmental regulations on our business, including but not limited to the potential impact on our sales, operations and supply chain; adverse changes in the global or regional general business, political and economic conditions, including the impact of continuing uncertainty and instability in certain countries, that could affect our global markets and the potential adverse economic impact and related uncertainty caused by these items; the extent of the impact of the COVID-19 pandemic, including the duration, spread, severity, and any recurrence of the COVID-19 pandemic, the duration and scope of related government orders and restrictions, the impact on our employees, and the extent of the impact of the COVID-19 pandemic on overall demand for the Company's products; local, regional, national, and international economic conditions that have deteriorated as a result of the COVID-19 pandemic, including the risks of a global recession or a recession in one or more of the Company's key markets, and the impact they may have on the Company and its customers and management's assessment of that impact; extensive and evolving government regulations that impact the way the Company operates; the impact of the COVID-19 pandemic on the Company's suppliers, including disruptions and inefficiencies in the supply chain; and the Company's ability to offset rising costs through pricing and productivity effectively.
These forward-looking statements are subject to risks, uncertainties and other factors, many of which are outside of the Company's control, which could cause actual results to differ materially from the results contemplated by the forward-looking statements. These statements are subject to the risks and uncertainties indicated from time to time in the documents the Company files (or furnishes) with the U.S. Securities and Exchange Commission.
You are cautioned not to place undue reliance upon any forward-looking statements, which are based only on information currently available to the Company and speak only as of the date made. The Company undertakes no commitment to publicly update or revise the forward-looking statements, whether written or oral that may be made from time to time, whether as a result of new information, future events or otherwise, except as required by law.
Contacts:
Investor Relations Contact:
Whole Earth Brands
312-840-5001
investor@wholeearthbrands.com
ICR
Jeff Sonnek
646-277-1263
jeff.sonnek@icrinc.com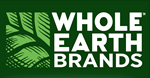 Source: Whole Earth Brands

Released April 25, 2023